Lee Hyo-jung(born 13 January 1981 in Seoul) is a female badminton player from South Korea.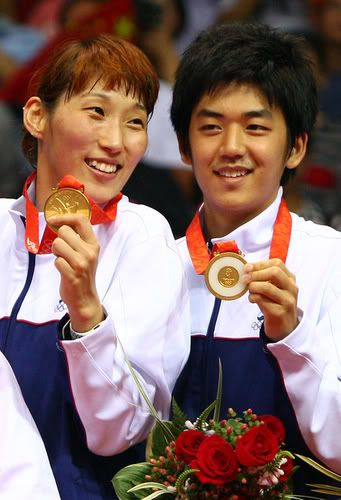 Lee Hyo-jung's Medal
She won the gold medal in badminton mixed doubles at the 2008 Beijing Summer Olympics with her partner, Lee Yong-dae. Lee Hyo-jung and Lee Yong-dae were unseeded and in the finals they beat the top seeds and 2005 and 2007 world champions Lilyana Natsir and Nova Widianto of Indonesia, 21-11 , 21-17.
Lee Hyo-jung Make Up
Lee Hyo-jung also won the silver medal in badminton women's doubles at the 2008 Beijing Summer Olympics with her partner, Lee Kyung-won; they were seeded fourth and lost to the second-seeded Chinese pair, Du Jing and Yu Yang.
Lee Hyo-jung Action on Competition
In May, Lee competed in the 2010 Uber Cup as a member of the South Korean women's national team. There she led her team to its first Uber Cup trophy, winning all 4 doubles matches she competed in through the tourney. In finals, she and her partner Kim Min-Jung won against WR #1 Ma Jin and Wang Xiaoli, beating them 18-21, 21-12, 21-15. Although Lee and Kim were not regular partners and Lee Hyo-Jung stopped playing WD regularly in international games, Lee played exceptionally well, proving why she is the most successful player in 2008 Olympic winning both gold and silver medals.
Lee Hyo-jung on Beijing 2008
In June, Lee continued on playing doubles with Kim Min-Jung, winning Indonesia Open and also finishing as a runner up in Singapore Open. While waiting for Lee Yong Dae to recover from his injury, she has been playing mixed double with Shin Baek-Cheol, although it hasn't been as successful as with Lee Yong-Dae. It is expected that Lee Yong-Dae would recover around August, and they would resume their mixed double partnership in World Championship in Paris.