Wayne Rooney Top 10 Goals
Wayne Mark Rooney (born 24 October 1985) is an English footballer who plays as a striker for Premier League club Manchester United and the England national team.
Aged 10, Rooney joined the youth team of Everton, for whom he made his professional debut in 2002. He spent two seasons at the Merseyside club, before moving to Manchester United for £25.6 million in the 2004 summer transfer window. Since then, United has won the Premier League three times, the 2007–2008 UEFA Champions League and two League Cups. He has also been awarded the PFA Players' Player of the Year and the FWA Footballer of the Year in 2009–10.
Rooney made his England national team debut in 2003 and, at UEFA Euro 2004, he briefly became the competition's youngest goalscorer. He is frequently selected for the England squad and also featured at the 2006 FIFA World Cup and the 2010 FIFA World Cup. As of September 2010, he has won 67 international caps and scored 26 goals.
Wayne Mark Rooney in Red Costume
Wayne Mark Rooney Performance
Wayne Mark Rooney on Coat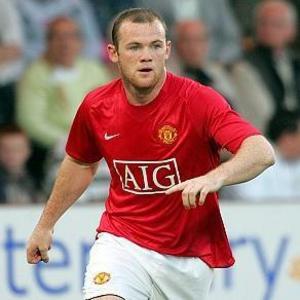 Wayne Mark Rooney AIG Costume
Wayne Mark Rooney Expression